CHHOTU RAM ARYA COLLEGE,SONEPAT
(AFFILIATED TO MAHARSHI DAYANAND UNIVERSITY, ROHTAK)
SCHOLARSHIPS /STIPENDS
The college offers a number of scholarships/ stipends under the following schemes. The Eligible students should submit their applications on the prescribed form complete it all respect to the Principal by August 30, positively.
Government of India Post Matric Scholarship scheme for Schedule Caste/Schedule Tribes students. Under this scheme the Schedule Caste/ Schedule Tribe students whose parent?tal income from all sources does not exceed Rs 65294/- per annum for full scholarship and Rs 100000 for half scholarship are eligible for the scholarship. All the children of the same parent will be entitled to receive benefit of the scheme. The heads of Institutions are competent to sanction with scholarship.
State Harijan Welfare Schemes for backward class students: The students belonging to recognised backward class and the total income of whose parents does not exceed Rs 24000/- (Rs 65290/- proposed by the government) per annum are eligible for stipends under this scheme as per existing Haryana Government Rule.
Government of India Scheme of Merit Scholarship to lower income group students of denotified Nomadic and semi Nomadic tribes. Various scholarships are available under the scheme of awards to the eligible students in general category on the basis of total annual income of these parents.
Government of India National Loan Scholarship Scheme:
The students who are not eligible to secure scholarship under above-mentioned scheme can seek loans under this scheme if the secure at least 60% marks in the qualifying examination. The annual basic pay of these parents should not exceed Rs.25000/- (after deducting the rebatable items allowed under the Income Tax Law). There is, however, no income conduction or 60% marks in renewal class.
(a) Government of India national scholarship scheme
(b) Government of India national merit scheme merit for the children of the school teacher.
(c) Haryana State Govt Education Department) Merit Scholarship in college for general University Education.
(d) One time scholarship for those candidates who have secured above 60% marks in 10 + 2 examination from Haryana Board of School Examination, Bhiwani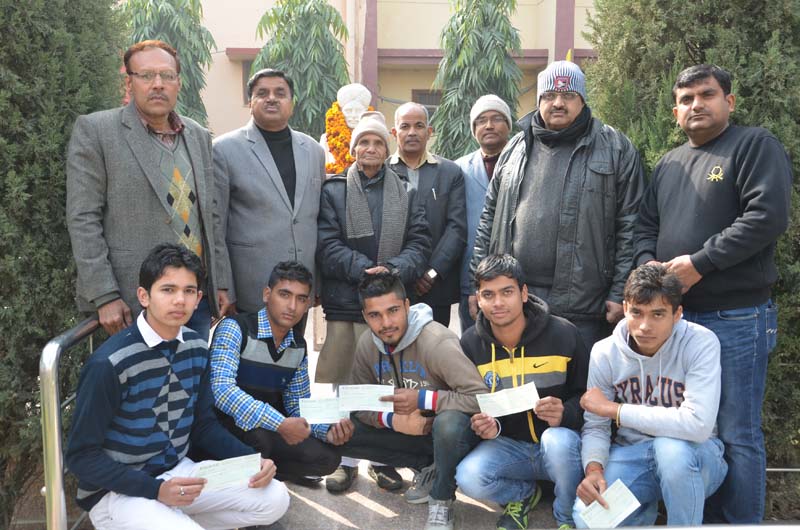 © CRA College Sonepat 2018
Design and Developed by Pramod Sharma (pramod.dpsghy@gmail.com)